0
My Cart
Your cart is empty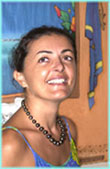 JEWELRY STORE, WORKSHOP AND SETTINGS FOR TAHITIAN PEARLS
Whether you are discovering Tahitian Pearls for the first time, or you are already a connoisseur, I offer you a meticulously selected variety of pearls from the atolls in the Tuamotu Archipelago as well as from our pearl farm located on the atoll of Ahe.
Having lived for 8 years in the Tuamotus, and having worked in a pearl farm since my arrival in Polynesia, I've learned to know all of the aspects, from production to setting of these jewels, the Tahitian Pearls.
I have also studied in several training courses for jewelers offered by the Papeete Chamber of Commerce, and have received a Certification from the
Gemological Institute of America
for classifying Tahitian pearls and pearls from elsewhere. (
GEM 149 - Pearls Graduate
).
To highlight their beauty simply or more ornately, you can find a choice of classic settings in my jewelry store, as well as original
creations in gold
and
silver
.
I can quickly and easily mount your pearl in a setting in my store, or you may choose to buy an
unset pearl
to be set by your own favorite jeweler.
By buying your Tahitian Pearl directly from the pearl producer, you will benefit from a better price, because your purchase will be exempted from the local tax (-16%). Also, by eliminating the middleman, you will be participating in fair trade.
In my online boutique, you will find a selection of my most beautiful Tahitian pearls, which I personally handpick at the moment they are harvested...
You'll find the largest choice of original jewelry creations and Tahitian pearls available anywhere on the internet.
Plus, unlike most websites where Tahitian pearls are sold, the photos on my site
are contractual
: that is, the pearl that you see in the photo is the pearl that you will receive.
Visit my online boutique,
learn how to recognize high-quality pearls
and
consult my evaluations
, so you can buy your Tahitian pearls at the best price:
A large selection of Tahitian Pearls mounted on silver settings for as little as 25 Euros
!
Of course, each piece of jewelry will be delivered with its gift pouch, as well as its Certificate of Quality and Authenticity in
conformance with the law in French Polynesia
.
I have been in business since June, 1998 in French Polynesia and now in the "Free Port" of St Barthelemy Island where it is possible to offer to you the best tax-free prices....
-
Free shipping
for all the pearls !
-
New customers
: You will receive email with a registration code offering a discount of 5% for your first order.
-
Sponsor your friends
and receive 10 Euros per godson to accumulate for your next order.
-
Other sales
: