0
My Cart
Your cart is empty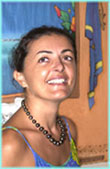 JEWELRY STORE, WORKSHOP AND SETTINGS FOR TAHITIAN PEARLS
Discovering Tahitian pearls or already a connaisseur, I can offer you a minutious and very varied selection of pearls coming from the Atolls of Tuamotu and the Gambier Archipelago.
During 15 years in Polynesia, I learned to recognize all the subtleties, from production to mounting, of these beautiful Tahitian pearls: by working with a pearl farm as of my arrival and then by taking several courses in jewellry organized by the
Tahitian Chamber of Commerce
, and receiving the certification from the
Gemological Institute of America
for the classification of Pearls: Tahitian Pearls, Southern Ocean Pearls (Australia and the Phillipines) and Asian Pearls (
GEM 149 - Pearls Graduate
).
To best present these unique pearls, you will find in my jewellry, a varied choice of mounts in 18K gold and 0.925 rhodium silver as well as a range of settings specially designed for pearls.
Mounting of the Tahitian Pearls can be done by me very quickly but you can also choose to buy
bare pearls
which can be mounted by your own jeweller.
By purchasing my Tahitian Pearls directly from the pearl producer, this Fair Trade approach allows you benefit from the best prices and thus avoid middle men.
Since March 2011, in association with a large Australian Pearl importer, I can offer a selection of the rarest and most precious
South Sea pearls
, coming from Broome in Western Australia.
In my on-line boutique, I present my most beautiful Tahitian pearls which I have selected personally at the time of harvesting.
Unlike most boutiques, the photos on my site
are contractual
: This means that the pearl you are going to receive is that which you have seen in the photo
Learn to recognise
quality pearls
and consult
my evaluations
in order to purchase Tahitian pearls at the best price.
Each piece of jewellry is delivered with a Certificate of Quality and Authenticity in conformity with the
legislation in force in French Polynesia
Professionals:
Open your account
and profit from an incomparable choice of settings for pearls in gold or silver to make your own jewellry!
Do not forget to add my site to your favorites, because every day there are new selections !